Parry Sound
Gateway to Northern Ontario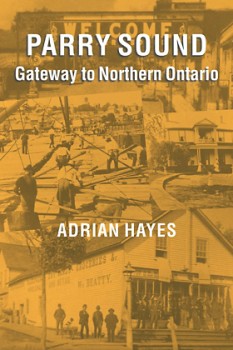 by Adrian Hayes

Usually ships within 4-5 business days

Shipping Info
Policies
More about this Book
The Town of Parry Sound began as the entrance by boat from Georgian Bay to the hinterland between Muskoka and Nippissing, and when roads came through, it remained "the gateway" to Parry Sound District. This book traces the rich saga into present times.
Parry Sound, located where the Seguin River empties into Georgian Bay, traces its history back to William Beatty Jr. and the purchase of timber rights. From lumbering's heyday and early mining ventures, through the era of alcohol Prohibition, on to the railway's transforming arrival through town, advancing though the grim impact of the World Wars, Parry Sound's unfolding years are accompanied, here in journalist-historian Adrian Hayes well-crafted book, by an intriguing mixture of colourful personalities, politics, and scandal. The tale of this growing and evolving northern community has a richness few Ontario towns can match.
As the author shows, the story of this northern community continues today as Parry Sound embraces its entrepreneurial spirit, hockey heritage (three cheers for Bobby Orr), expanding commitment to the arts (especially through the popular summertime "Festival of the Sound"), and good fortune as a popular northern vacation destination.
Author Information
Adrian Hayes grew up in Parry Sound and has degrees in history and journalism. In this history of his home town, he chronicles a place he came to know well. Another local story, that of Francis Pegamagabow, Indian chief and Canada's most-decorated aboriginal soldier in World War I, inspired him to become active in bringing Pegahmagabow long overdue recognition, including by writing the fine book Pegahmagabow: Life Long Warrior. Adrian Hayes lives in Newmarket and works in publishing.
Details
Publisher: Natural Heritage, 2005
Category: History / Resorts & Vacationing / Politics, Law & Society
ISBN: 978-1-896219-91-2
Price: $26.99 CDN
Format: Paperback, 272 pages, 6 x 9 in
Features: Extensive notes, bibliography, and index