Muskoka Steamships
A Photographic Portrait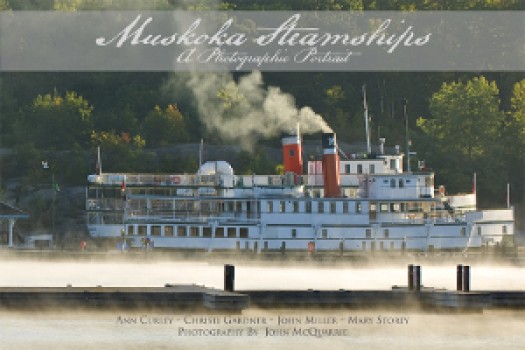 by John McQuarrie

Usually ships within 4-5 business days

Shipping Info
Policies
More about this Book
Before Muskoka's modern era of highways and roadways, vacationers arrived by train at Muskoka Wharf in Gravenhurst then transferred to steamboats for the final distance to resorts and cottages on lakes Muskoka, Joseph, and Rosseau.
Today Muskoka's history of that era is still alive — preserved through the Muskoka Boat & Heritage Centre, but also by one's ability to cruise the lovely lakeland aboard the R.M.S. Segwun (North America's oldest operating hand-fired steamship) or on Wenonah II (combining modern conveniences and historical charm.)
This small book of extraordinary photographs by John McQuarrie captures the atmosphere to perfection.
Slip back in time as you admire the Wanda III steam yacht that belonged to Lady Eaton and served her on the Muskoka lakes. Come ashore and experience the Muskoka Boat & Heritage Centre that showcases the history of Muskoka's steamships, wooden boat building industry, and landmark resorts. The Heritage Centre is also home to Canada's largest in-water collection of antique and classic boats.
This Muskoka experience awaits you on board the Segwun or Wenonah and at the Muskoka Boat & Heritage Centre … and also comes to life across the pages of this charming book.
Author Information
Ottawa photographer John McQuarrie has created many books in which remarkable photos tell the story. When it comes to Muskoka, he has given us Muskoka Steamships: A Photographic Portrait, as well as a companion work, Muskoka: A Photographic Portrait, both tasters for his masterwork, Spirit of Place: Muskoka Then & Now.
Details
Publisher: Magic Light Publishing, 2010
Category: Transportation / Pictorial works / Resorts and tourism
ISBN: 978-1-894673-42-6
Price: $6.95 CDN
Format: Paperback, 32 pages 9 x 6 in