Browning Island, Lake Muskoka
Cottagers remember the good old days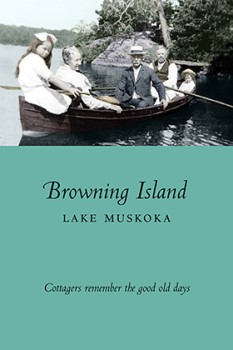 by Robert Attfield (Editor)

Usually ships within 4-5 business days

Shipping Info
Policies
More about this Book
You don't have to be a Browning Islander to enjoy this charming collection of stories and pictures of Muskoka summers (and the odd winter) dating back to the early 1900s.
Those were the days when a trip to the cottage meant trunks and trains and steamboats, when blocks of ice cut from the lake in winter cooled the cottage icebox. Those were the days when a supply boat — a floating grocery store — called at the dock every week, and nobody gave a second thought to rowing ten miles to visit friends.
And of course those were the days when swimming attire was the epitome of fashion!
Browning Island is one of the largest islands in the famous Muskoka Lakes, an area that might be considered Ontario's original cottage country. The island itself enjoyed an interesting history. In the 1870s lumbermen stripped off the white pine, then beginning around the time the first cottagers came, a substantial farming operation was established.
Much of Browning Island was acquired in the early 20th century by Captain Wesley Archer, who moved there with his family. The Archer name quickly became synonymous with Browning. Captain Archer and his descendents became an integral part of the island's summer community, ferrying the cottagers in steamboats and motor launches, cutting their ice, selling them milk and produce, bringing their mail, and constructing many of their cottages. The Archer family is a common theme running warmly through the reminiscences of the islanders.
Details
Publisher: Fox Meadow Creations, 2000
Category: Communities and locales
ISBN: 978-0-9681452-3-4
Price: $19.95 CDN
Format: Paperback, 192 pages 6 x 8.875 in
Features: 66 B&W photographs and maps, index