The March of Days
Optimistic Realism through the Seasons of Life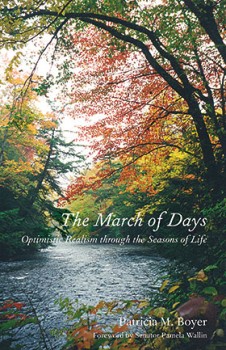 by Patricia M. Boyer

Usually ships within 4-5 business days

Shipping Info
Policies
More about this Book
Although Patricia M. Boyer won a scholarship to McMaster University with the highest mathematics marks in Ontario and graduated at age 19, literature and languages were her specialty. She first worked as a public librarian, next as a secondary school teacher, then as a newspaper editor. A community leader in arts and theatre, Patricia was devoted to human rights action in her local community and around the world, church work, drama, the education of children with disabilities, and music.
Each week she wrote a newspaper column inspired by episodes in the world around her, both local and global. She rewarded readers through articles infused with learning from literature, astute sensibility to human psychology, and balanced insights on the tragedies and comedies of life's passing parade.
Patricia Boyer summed up her approach to life as 'optimistic realism'.
This collection of the best of her celebrated columns, organized through the twelve months of the year or 'the march of days', includes reflections on seasonal celebrations, changing atmospheres of nature, and calendar milestones in the human cycle. A number of these concise yet poignant writings will move many readers with nostalgia as they evoke the happy events and tragic developments of the Sixties and Seventies. All of them, however, convey the wisdom of a woman whose message of optimistic realism endures like a timeless guide to living a satisfying life in the real world today.
"Freedom of the press means in fact the freedom to be morally responsible to the public. Patricia Boyer fulfilled this condition with the grace, concern, intelligence and wit of a dedicated and perceptive writer. Her thoughts are timely, local and yet universal, a dialectic between the real and the ideal with a commitment to a progress which entails a constructive understanding of the past and an appreciation of humanitarian values."
— Sylvia DuVernet, literature professor and author,Toronto
Author Information
Patricia M. Boyer, who died in 1978 at age 66 while working on her novel The Matriarch, was a public librarian, a secondary school teacher, then a newspaper writer and editor. She became a community leader in arts and theatre, church work, drama, the education of children with disabilities, and music. Both in her local Muskoka community in Ontario and in the wider world, she was actively devoted to human rights and the work of Amnesty International. Patricia Boyer authored the book Looking at Our Century.
Details
Publisher: Blue Butterfly Books, 2009
Category: Politics and social life / New editions
ISBN: 978-0-9784982-1-4
Price: $22.95 CDN
Format: Paperback, 226 pages 5.5 x 8.5 in
Features: Foreword by Senator Pamela Wallin, Introduction by the author's son, Patrick, photos, subject index.