Raw Life
Cameos of 1890s Justice from a Magistrate's Bench Book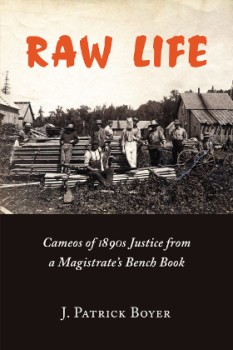 by J. Patrick Boyer

Usually ships within 4-5 business days

Shipping Info
Policies
More about this Book
Rare views of human lives in turmoil are detailed by recently recovered records of the trials conducted in the 1890s by Magistrate James Boyer in Bracebridge and central Muskoka. What become clear is just how Raw Life really was beneath the glitter of the so-called "Gay Nineties." While dispensing speedy justice, Boyer, who was also editor of The Northern Advocate, the first newspaper in Ontario's northern districts, also kept a careful record in his hand-written "bench book" of all these cases. The bench book, found by his great-grandson, lawyer J. Patrick Boyer, forms the basis of Raw Life.
In publishing the human stories behind these cases for the first time, the two Boyers team up across the generations to show how, at the lower edges of Canadian society, how some things have not changed much over time—from early road rage to the plight of abused women, environmental contamination to punitive treatment of the poor. Raw Life provides human portraits of those involved—the justices of the peace, the constables, game wardens, and also the large cast of rioting loggers, illegal hunters, unpaid workers, delinquent boys, brawling drunks, quack doctors, and desperate thieves. The book describes the rough-hewn society in which they lived, and explains the all-important role justices of the peace had in providing speedy, ground-level justice for Canada's early communities.
Preface by Edward L. Greenspan. Foreword by Ontario's former Attorney General and Chief Justice, R. Roy McMurtry.
Author Information
J. Patrick Boyer was born in Bracebridge, Ontario in 1945 and since then has been a printer, journalist, lawyer, parliamentarian, television host, and university teacher. He is author of some twenty books of biography, law, politics and history, holds a number of university degrees, and has worked as a journalist in Saskatchewan, Ontario and Quebec.
Details
Publisher: Dundurn, 2012
Category: Politics and social life / Communities and locales / Biography, autobiography, and reminiscences
ISBN: 978-0-9781600-4-3
Price: $39.99 CDN
Format: Paperback, 630 pages, 6 x 9 in
Features: Over 60 photos, original map, index