No Return
A Novel of the Canadian Election that Vanished in Muskoka's Backwoods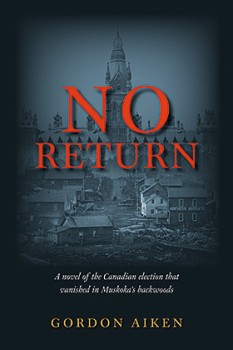 by Gordon Aiken

Usually ships within 4-5 business days

Shipping Info
Policies
More about this Book
Canadians took politics seriously in the years following Confederation and Gordon Aiken's novel about pioneer Muskoka and the fledgling nation's capital shows why.
Unique events in the Dominion's second election, in 1872, inspired Aiken to write about Muskoka's returning officer, Richard Bell, who refused to declare Liberal candidate A.P. Cockburn elected, even though he got the most votes. Consequent ground-breaking events included Bell's summons to give an accounting of himself to the House of Commons, the first and only time an MP would be elected to parliament by members of the Commons itself, and reforms in Canadian election law including introduction of the secret ballot.
Privately published as Returning Officer in 1982, and long since out of print, this Blue Butterfly edition is retitled No Return. Completely reset and redesigned, with added maps and period photographs, this new edition also features J. Patrick Boyer's afterword, "Gordon Aiken's Quest and the Genesis of No Return."
The political intrigues woven into Gordon Aiken's rich tale of local and national affairs from 140 years ago will resonate with readers today, if its essential plots and human ambitions were simply updated by new technology and a fresh cast of characters to re-enact timeless dramas of mismatched lovers, a local judge fighting the newspaper editor, lumber barons playing both sides to keep their timber licences, and contractors changing political sides to win road jobs (or what today are termed "infrastructure projects").
"Gordon Aiken seems to know Muskoka as well as his own face. This novel grips attention early with as vivid a description of a forest fire as has ever been put in print in small space. If you are interested in history in easy-to-read fiction form, this book is a must. Muskokans should read it and this one did read it."
—Gordon Sinclair, Toronto Star columnist and CFRB Radio broadcaster
"A surprisingly good evocation of the nature of a partisan activist, the grist stuff of a party at the local level."
—Douglas Fisher, former MP, broadcaster, and Toronto Sun columnist
"Gordon Aiken's interesting and well-written account of this strange happening brings to life the characteristics of Muskoka's main personalities in the 1870s and should appeal to many readers across Canada."
—Robert J. Boyer, newspaper editor, historian, Muskoka MPP 1955–1971
"For us involved in the administration of elections, this is truly fascinating reading."
—Jean-Marc Hamel, former Chief Electoral Officer of Canada
"Aiken has written an interesting and authentic account of pioneer days, embellished with a tale which gives the lie to the old bromide that Canadian politics is dull."
—Homer Foster, Sault Ste. Marie Star
Author Information
Aiken, Member of Parliament for the same district a century later, wrote with deep understanding about Muskoka and its people and acute knowledge of parliamentary politics. No Return tells of one man's struggle to support his chosen party, maintain his independence, confound his enemies, and hold his family together under duress.
Details
Publisher: Blue Butterfly Books, 2010
Category: Politics and social life / New editions / Fiction
ISBN: 978-1-926577-04-3
Price: $24.95 CDN
Format: Paperback, 317 pages 6 x 9 in
Features: maps, period photographs, biography of Gordon Aiken by J. Patrick Boyer