Grace & Speed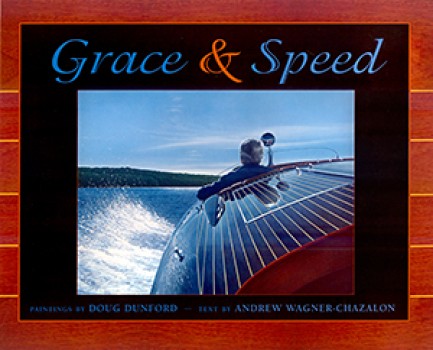 by Andrew Wagner-Chazalon

Usually ships within 4-5 business days

Shipping Info
Policies
More about this Book
Every so often, a special place arises in which an art or craft is taken to new heights. In the world of boat building, Ontario's Muskoka region is such a place.
Muskoka has long had an abundance of skilled craftsmen, as well as a wealthy clientelle with both the means and the desire to own nothing but the best. That powerful combination resulted in a drive to produce boats that were not only superb performers, but artistic achievements, vessels of surpassing beauty that simply demand to be admired. In many places these gleaming wooden motorboats are often referred to simply as ""Muskoka boats,"" and with good reason: the boats that were produced in Muskoka are among the finest in the world.
The era of wooden boats has vanished in many other areas, but in Muskoka the love of mahogany endures. The region is home to an unsurpassed fleet of treasured boats, vessels that are enjoyed by their owners but are also regarded as floating works of art, tended to and restored by craftsmen every bit as skilled as their predecessors.
Painter Doug Dunford has long been fascinated by the boats of Muskoka, and has devoted many years to painting them. This volume contains some of his finest works. These paintings demonstrate the particular magic that can happen when art inspires art, when a skilled painter is moved by the work of skilled boat builders.
Inspired by Dunford's paintings, writer Andrew Wagner-Chazalon tells the stories of these boats and this region. He brings to life the people connected to these boats, and examines the competitive drive that led them on a quest to build and own the best, fastest, most luxurious and most beautiful boats on the lake.
Author Information
Recognized as a talented painter at a very early age, Doug Dunford has spend his life developing his artistic skills. He has travelled around the world painting, but for the past three decades has made his home in Ontario's Muskoka region. He is celebrated for his ability to capture life on and around the water, as well as for the richness of his realism. In recent years, he has also earned a following for his impressionist works.
A passionate admirer of wooden boats of all sizes, from canoes and skiffs to cabin cruisers and schooners, Andrew Wagner-Chazalon takes every opportunity he can to travel in style on the waterways of Muskoka and Georgian Bay. A longtime journalist and award-winning writer, he spent five years as editor of The Muskokan, and is founding editor of Beyond The City magazine. He has contributed to several books, and is the author of Muskoka Traditions. He lives in Bracebridge with his wife, Sharon, their three children, and a small fleet of boats in varying stages of restoration.
Details
Publisher: Algonquin International, 2006
Category: Transportation
ISBN: 978-0-9780362-0-1
Price: $34.95 CDN
Format: Hardcover, 112 pages 8.25 x 10.25 in
Features: Includes bibliographical references and index.