Canoes
A Natural History in North America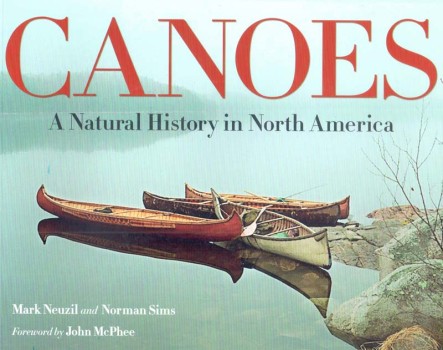 by Mark Neuzil, Norman Sims, John McPhee

Usually ships within 4-5 business days

Shipping Info
Policies
More about this Book
The scope of Canoes can be gauged by the book's eight chapter titles alone: Dugout Canoes, Birch-Bark Canoes, The Fur Trade, All-Wood Canoes, Wood-and-Canvas Canoes, Synthetic Canoes, The Human-Powered Movement, and Canoe Tripping.
Roy MacGregor, author of Canoe Country: The Making of Canada, a book that is to canoes what a valentine is to love, holds Canoes and its authors in high esteem: "Mark Neuzil and Norman Sims have written a wonderfully detailed biography of the vessel that made North America possible, treating it as a living, breathing personality. As enjoyable as a swift, steady, and smooth river, this is the ideal book for canoeists—the perfect canoe trip of a read."
Another seasoned author who knows this subject, Peter Geye, who wrote Wintering, is equally impressed: "Canoes is that rare cultural history that manages to transport through its very subject—the North American canoe. The book is fascinating and thorough and wonderfully accessible. It's also the definitive work on the single most important conveyance in this continent's rich past. It'll carry you away like a beautifully crafted cedar strip canoe."
About the Authors
Mark Neuzil is professor of communication and journalism at the University of St. Thomas in St. Paul, Minnesota. The author, co-author, or editor of seven books, Neuzil is a frequent speaker and writer on environmental subjects.
Norman Sims, a retired professor (University of Massachusetts, Amhurst), is a past president of the International Association for Literary Journalism Studies. In addition to Canoes, Sims has authored a half-dozen other books.
John McPhee, who's Foreword is a personal tale of canoe culture and its impact on the lives of outdoors people, has written close to 30 books, a number of them canoe-centric, such as The Survival of the Bark Canoe and Coming into the Country. His 1999 book Annals of the Former World won a Pulitzer Prize.
Details
Publisher: Fitzhenry & Whiteside
Category: Social & Cultural, Indigenous Life, Nature & Adventure, Economy & Transportation, Pictorial Works
ISBN: 9781554554386
Price: $40.00 CDN
Format: paperback, 370 pages
Features: superb design and lay out, extensive photographs and images, notes, index, bibliography