The Life and Times of A.P. Cockburn
Father of Muskoka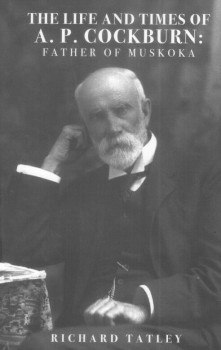 by Richard S. Tatley

Usually ships within 4-5 business days

Shipping Info
Policies
More about this Book
Organized into 8 chapters, Tatley's account of Cockburn's life and times makes clear why this man, who lived from 1837 to 1905, made Muskoka what it is today. In addition to establishing a steamboat enterprise that became emblematic of Muskoka, Cockburn was an effective proponent of farming on the Canadian Shield, conducted retail business, land transport, and effectively promoted lumbering as an economic pillar for Muskokans. He advanced Muskoka's tourism economy around the nexus between grand lakeside summer resorts and steamships.
Cockburn was a player in provincial and national politics, first elected to represent Muskoka in the Ontario Legislature following Confederation. There he succeeded in winning support for Muskoka's development with construction of navigation locks. Nationally, he then ran in the federal election of 1872 to represent Muskoka in the House of Commons. That unique election, in which he won most votes but the returning officer refused on technical grounds to declare him elected MP, resulted in a trial before the bar of the House of Commons and the MPs themselves voting Cockburn into office as Muskoka's representative – the only time in Canadian history such a thing has happened. For the full story on this, see the book No Return in the Public Affairs category of our online bookstore.
Author information
Richard Tatley, born at Ottawa in 1942, grew up in Brampton, Ontario, and from age six began coming to Muskoka during summers. In 1965 he earned an honours bachelor of arts degree, in history and English, from Queen's University. After post-graduate studies, he began secondary school teaching and free-lance work as an historical researcher. Now residing year-round in Gravenhurst, he has written many books about steamship history in Ontario and Muskoka, as well as histories of several Muskoka communities.
Details
Publisher: Richard Tatley, 2023
Category: Biography / History
ISBN – 9781378892808
Price – $24.95
Format – Softcover, 116 pages, 8½ x 11 inches
Features – richly illustrated with photographs throughout; maps, bibliography; index