Seasons of Hope
Memoirs of Ontario's First Aboriginal Lieutenant Governor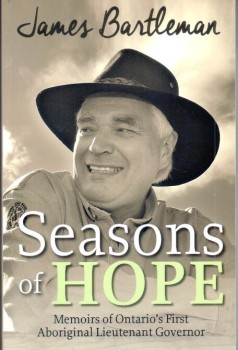 by James Bartleman

Usually ships within 4-5 business days

Shipping Info
Policies
More about this Book
James Bartleman, Ontario's first Native lieutenant governor, looks back over seventy years to his childhood and youth. He describes how learning to read at an early age led him to dream dreams, empowering him to serve his country as an ambassador. In time, Bartleman's exciting and fulfilling career as a Canadian diplomat took him to a dozen countries around the world, from Bangladesh to Cuba, Australia to Israel.
After a vicious beating in a hotel room robbery in South Africa, however, he was forced to come to terms with a deepening depression. In the end, Bartleman found new meaning in life when he became the Queen's representative in Ontario and mobilized the public to support his initiatives championing books and education for Native children.
Seasons of Hope is the extraordinary story of an extraordinary man, and of his constant journey toward hope.
Author Information
James Bartleman is a former lieutenant governor of Ontario and bestselling author of the novels As Long as the Rivers Flow,The Redemption of Oscar Wolf, and A Matter of Conscience. A member of the Chippewas of Rama First Nation, he is also a retired ambassador, an officer of the Order of Canada, and winner of the Aboriginal Achievement Award. He lives in Perth, Ontario.
Details
Publisher: Dundurn Press, 2018 / A J. Patrick Boyer Book
Category: Fiction
ISBN: 9781459733060
Price: $24.99

Format: Softcover, 284 pages, 6 x 9 in