Raisin Wine
A Boyhood in a Different Muskoka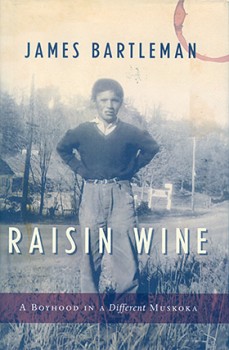 by James Bartleman

Usually ships within 4-5 business days

Shipping Info
Policies
More about this Book

In Raisin Wine, bestselling author James Bartleman pulls back the curtains to reveal the sometimes hilarious, often dark, boyhood years he spent growing up in the Muskoka village of Port Carling, living in a dilapidated house with outdoor toilet and coal oil-lamp lighting. Behind the outrageous stories, larger-than life-characters, and descriptions of the mores of a small village in the heart of Ontario's celebrated lakeland Muskoka District are flashes of insight from the perspective of a boy that recall the Canadian classic Who has Seen the Wind by W.O. Mitchell.
But why "a different Muskoka?" Because the boy was a half-breed kid. Visits to his mother's reserve showed him that he was caught between two worlds. His mother's fight with depression flowed from that dilemma. His father was a charming Scottish day-labourer who seemed a happy-go-lucky guy but who also possessed a serious side, reading voraciously, especially books on philosophy. Bartleman Sr. never had money but made the best home brew in the village, his specialty being raisin wine.
Like that raisin wine, this unusual book goes down easily and has a kick to it.
Author Information
James Bartleman rose from humble circumstances in Port Carling, Ontario to become a Canadian ambassador in a number of countries abroad (about which he wrote a diplomat's memoir entitled On Six Continents), foreign policy advisor to Prime Minister Chretien (about which he wrote the political memoir entitled Rollercoaster), and Lieutenant-Governor of Ontario (at which time he launched a literacy and community library program for Ontario's northern fly-in reserves.) James Bartleman is also author of the prize-winning memoir Out of Muskoka, which is an earlier version of the saga in Raisin Wine, but told in a different voice and from a different perspective. His latest book The Redemption of Oscar Wolf, also set in Port Carling and a work of historical fiction, was published as "A J. Patrick Boyer Book" by Dundurn in 2013.
Details
Publisher: A Douglas Gibson Book, McClelland & Stewart, 2008
Category: Biography & Memoir / Aboriginal Life
ISBN: 978-0-7710-1264-8
Price: $19.99 CDN
Format: Paperback, 260 pages, 5.5 x 8.5 in