Pegahmagabow
Life-Long Warrior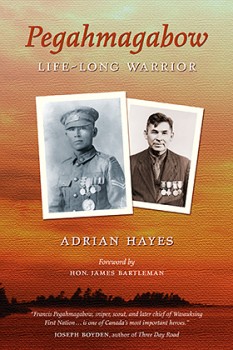 by Adrian Hayes

Usually ships within 4-5 business days

Shipping Info
Policies
More about this Book
Francis Pegahmagabow was a remarkable aboriginal leader who served his nation in time of war and his people in time of peace—fighting all the way. In wartime he volunteered to be a warrior. In peacetime he had no option. His life reveals how uncaring Canada was about those to whom this land had always been home.
A member of the Parry Island band (now Wasauksing First Nation) near Parry Sound, Ontario, Francis served with the Canadian Expeditionary Force in Belgium and France for almost the entire duration of the First World War, primarily as a scout and sniper. Through the horrific battles and inhuman conditions of trench warfare, his actions earned him three decorations for bravery—the most ever received by a Canadian aboriginal soldier. More recently, they inspired the central fictional character in Joseph Boyden's highly acclaimed novel Three Day Road.
Physically and emotionally scarred by his wartime ordeals, Francis returned to Parry Island to try to rebuild his life. He had been treated as an equal in the army, but quickly discovered things hadn't changed back in Canada. As a status Indian his life was regulated by the infamous Indian Act and by local Indian agents who seemed bent on thwarting his every effort to improve his lot.
So, Francis became a warrior once more—this time in the even longer battle to achieve the right of aboriginal Canadians to control their own destiny.
In compiling this account of Francis Pegahmagabow's remarkable life, Adrian Hayes conducted extensive research in newspapers, archives, and military records, and spoke with members of Pegahmagabow's family and others who remembered the plight and the perseverance of this warrior.
Originally published by Fox Meadow Creations, Pegahmaga-bow emerges again in this new Blue Butterfly Books edition, which incorporates additional material and updates some aspects of this unforgettable story—and the confusion that still surrounds it.
Author Information
Adrian Hayes is a journalist with a strong interest in history. His penchant for digging into the past to bring forward stories of interest and importance is reflected in his education: he holds degrees in both history and journalism.
His career in journalism began with the Parry Sound North Star, his hometown newspaper. In addition to covering news stories, Adrian wrote a local history column. In his research for that, he unearthed many fascinating stories, one of which formed the basis for his first published book, Murder and Mayhem at Waubamik: The Shooting of Thomas Jackson (2002).
It was also during this period that Adrian discovered more about the legendary Francis Pegahmagabow. Spending much time talking with First Nations people in the Parry Sound region, as well as searching archival records and conducting interviews farther afield, he amassed more information about the aboriginal corporal than anyone else had. He knew the story needed to be told. The result was his second book: the story of Canada's most decorated First Peoples soldier and his ongoing quest for civil rights and human dignity in the decades following the First World War.
In the meantime, Adrian came to know other Ontario communities as he advanced his journalism career, working as a reporter for Orillia Today, then the Barrie Examiner, and finally as managing editor of the Uxbridge Times-Journal. With his wife and daughter, he now lives in Newmarket and is currently employed by Transcontinental Publishing. Adrian is also author of the book Parry Sound: Gateway to Northern Ontario (2005).
Details
Publisher: Blue Butterfly Books, 2009
Category: Biography, autobiography, and reminiscences / New editions
ISBN: 978-0-9784982-9-0
Price: $19.95 CDN
Format: Paperback,165 pages 6 x 9 in
Features: 46 photographs, 2 maps, subject index