A Matter of Conscience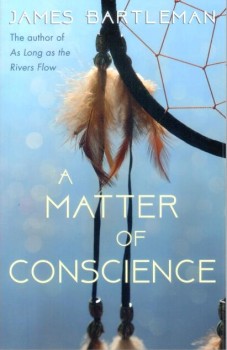 by James Bartleman

Usually ships within 4-5 business days

Shipping Info
Policies
More about this Book
A story of love and betrayal, this newest 2018 book by Ontario's first Indigenous lieutenant governor and best selling author James Bartleman deals with the biggest issues facing Canada's Indigenous peoples today.
As the saga open in the summer of 1972, a float plane carrying a team of child welfare officials lands on a river flowing through the Yellow Dog Indian Reserve. Their mission is to seize the twin babies of an Indigenous couple as part of an illegal scheme cooked up by the federal government to adopt out tens of thousands of Native children to white families. The baby girl, Brenda, is adopted and raised by a white family in Orillia.
Meanwhile, that same summer, a baby boy named Greg is born to a white middle-class family. At age eighteen, Greg leaves home for the first time to earn money to help pay for his university expenses. He drinks heavily and becomes embroiled in the murder of a female student from a residential school.
The destinies of Brenda and Greg intersect in this novel of passion, confronting the murder and disappearance of Indigenous women and the infamous Sixties Scoop.
Author Information
James Bartleman is the former lieutenant governor of Ontario and the bestselling author of the novels As Long as the Rivers Flow and The Redemption of Oscar Wolf. A member of the Chippewas of Rama First Nation, he is also a retired ambassador, an officer of the Order of Canada, and winner of the Aboriginal Achievement Award. He lives in Perth, Ontario.
Details

Publisher: Dundurn Press, 2018 / A J. Patrick Boyer Book
Category: Fiction
ISBN: 9781459741126
Price: $24.99 CDN
Format: softcover, 269 pages, 5.5 x 8.5 in