Back Again at Lake of Bays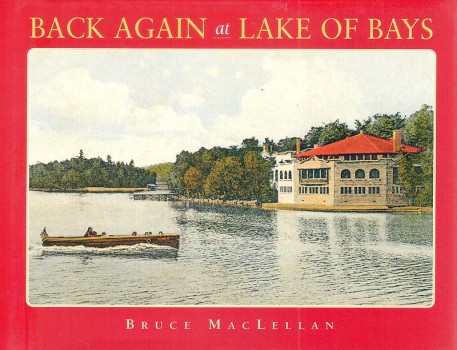 by Bruce MacLellan

Usually ships within 4-5 business days

Shipping Info
Policies
More about this Book
Lake of Bays Township in eastern Muskoka is renowned for its superb combination of spectacular scenery and inspiring history. From longstanding occupancy of these lands by First Nations to arrival of European settlers and visionary individuals who saw the District's great possibilities, the Lake of Bays community has sustained and inspired thousands. Connected both by geography and history to world-famous adjacent Algonquin Park, the Lake of Bays is also recognized by many as a treasured place to be protected for generations yet to come.
Back Again at Lake of Bays presents cultural and social and natural history through five decades of well-chosen postcards from Mr. MacLelland's extensive personal collection. The years from 1900 to 1950, he explains, "were the glory years for post cards, starting with the prosperity of the Edwardian Era, followed by growing travel and tourism, the opening of successful resorts, and advances in printing technology."
From 1900 to the outbreak of the Great War in 1914, it cost one penny to mail a card. With plenty of them arriving through the mail, families kept albums. "Even in 1915," explains MacLelland, "with Canada's population less than eight million, people mailed more than 65 million post cards."
The images on these cards and their accompanying messages offer historic insights into Muskoka's development, transportation, tourism, fashions, commerce, technology, war, and human emotions. A further feature of this rare collection of hundreds of cards is the voyeur's experience of reading someone else's mail!
Author Information
Bruce MacLellan has been a Lake of Bays cottager with his wife and family for a third of a century. He has been a director of the Lake of Bays Heritage Foundation, and served as its president. He volunteers with both the Nature Conservancy of Canada and Greening Greater Toronto. Bruce MacLellan is president of Environics, a leading Canadian marketing services company with offices both here and in the United States.
Details
Publisher: North Uist Communications
Category: Social & Cultural, History, Pictorial Works, Resorts & Vacationing
ISBN: 978-0-9783148-1-1
Price: $26.95 CDN
Format: Hardcover, 160 pages, 6¼ x 8½ in
Features: Introductory chapters on – From Glaciers to First Nations / European Settlement / The Beginning of Tourism in Muskoka / Getting to Lake of Bays.
Post cards are grouped by themes and locales. Often messages are included. Captions for each provide additional historical and cultural information by the authoritative author.