A Good Town Continues
Bracebridge 1915-1999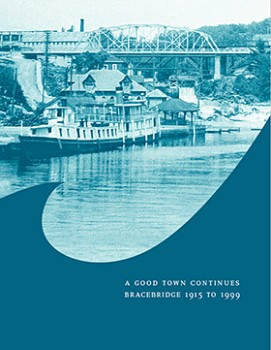 by Nancy Thompson

Usually ships within 4-5 business days

Shipping Info
Policies
More about this Book
In 1975 Bracebridge historian Robert J. Boyer published his authoritative book A Good Town Grew Here to chronicle Bracebridge events and personalities from earliest settlement to 1914.
A companion work to Mr. Boyer's valuable reference book, appropriately entitled A Good Town Continues, is this follow-on volume which spans the era from the Model T Ford to the Internet, 1915 to 1999. In detailing community life, this book also illustrates how social, economic, technological, and political changes affected the town and its people over those eight and a-half decades.
Compiled by members of the Bracebridge 125th Anniversary Book Committee, A Good Town Continues offers a year-by-year accounting of events, illustrated with nearly 200 photographs, accompanied by an index.
Details
Publisher: Town of Bracebridge, 125th Anniversary Committee, 1999
Category: Communities and locales
ISBN: 978-0-9686003-0-6
Price: $29.95 CDN
Format: Paperback, 384 pages 7.75 x 9.75 in
Features: 200 B&W photos, index