Trails and Tribulations
Confessions of a Wilderness Pathfinder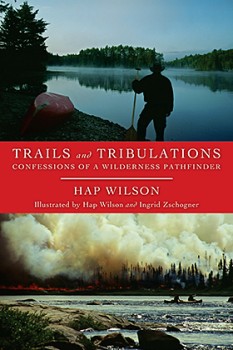 by Hap Wilson

Usually ships within 4-5 business days

Shipping Info
Policies
More about this Book
In an age when "survival" shows permeate the media, noted northern traveller Hap Wilson shares accounts of his lifelong involvement with wilderness living within the Canadian Shield. Wilson knows better than most how to live in the woods. As park ranger, canoe guide, outfitter, trail builder, and environmental activist, he learned from firsthand experience that nature can neither be beaten or tamed.
Trails and Tribulations takes the reader on a journey with the author through natural settings ranging from austere to mysterious and breathtaking. Contents include animal attacks, bush fires, the threat of hypothermia, and vision-quest sites, to name but a few.
"A recipient of the Bill Mason Award for life-long achievement in river conservation, (Hap Wilson) has written an impassioned and detailed account of a life led in a canoe-a bonus for everyone who loves the Canadian wilderness, canoeists and armchair voyageurs alike."
—The Sun-Times
Author Information
Artist, author and adventurer, Hap Wilson is perhaps best known for his ecotourism/travel guidebooks. He has led over 300 wilderness expeditions in Canada, and served as actor Pierce Brosnan's personal outdoor trainer for the feature film Grey Owl.
A self-taught artist and photographer, Hap Wilson is one of North-America's best -known wilderness guides and canoeists. Co-founder of the environmental group Earthroots, he divides his time between Muskoka and the Temagami Lakes district when he is not on the trail. Wilson worked as actor Pierce Brosnan's personal skills trainer for the Richard Attenborough movie Grey Owl.
Details
Publisher: Dundurn Press, 2009
Category: Nature, environment, and natural history
ISBN: 978-1-55488-397-4
Price: $26.99 CDN
Format: Paperback, 214 pages 6 x 9 in