The Cottage Bible
2nd Edition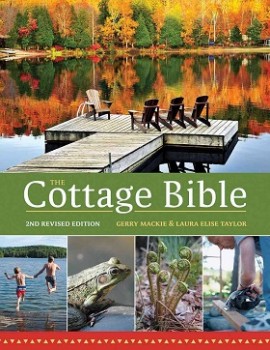 by Gerry Mackie & Laura Elise Taylor

Usually ships within 4-5 business days

Shipping Info
Policies
More about this Book
This second revised edition of The Cottage Bible is the most important reference for a cottage owner. The expert guidance is essential for any vacation home, especially one near water with unique challenges. There is year-round advice on maintenance, buying a cottage, repairing burst pipes, and how to keep a lake healthy.
The authors share their wisdom in a colorful easy-to-use kit of troubleshooting, how-to guidance, and problem-solving tips such as:
Buying a cottage
Weather prediction
Lake health and water quality
Shoreline erosion
pH and acid rain
Maintenance tips for a safe well
Aquatic organisms
Septic systems
Fishing essentials
Building a dock
Living with wildlife
Light, heat and power
Seasonal closing of the cottage
Boating essentials
Repairing burst pipes.
The Cottage Bible is the essential year-round handbook.
Praise for the first edition:
"Cottagers, prepare to worship [this] must-have guide." -- The Toronto Star
"New cabin owners will reap a greater confidence, a working vocabulary and an ace-up-their-sleeve with this book as a reference." -- Cabin Life/Cabin Living
Author Information
Gerry Mackie is professor emeritus in the Department of Integrative Biology at the University of Guelph (Ontario). He has authored four books and contributed to 12 others. He resides in Guelph, Ontario, but has 39 years of experience in building and maintaining a cottage in the wilderness.
Laura Elise Taylor is a writer and photographer living in Guelph, Ontario. She is the author of a literary memoir, A Taste for Paprika, and her photographs have been featured in journals and books, most recently More Straw Bale Building: A Complete Guide to Designing and Building with Straw.
Details
Publisher: Boston Mills Press, 2016
Category: Communities & Locales / Guidebooks & Cookbooks / Natural Environment / Resorts & Vacationing
ISBN: 978-1-77085-706-3
Price: $29.95 CDN
Format: Paperback, 280 pages, 8.5 x 11 in
Features: Photographs, Recipes, How-To