Canoeing and Hiking Wild Muskoka
An Eco-Adventure Guide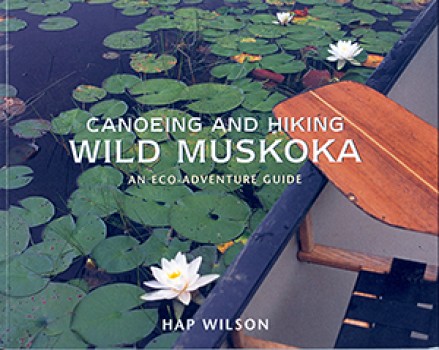 by Hap Wilson

Usually ships within 4-5 business days

Shipping Info
Policies
More about this Book
Beyond the glamour of the summer retreats and boathouses lining its major lakes, Ontario's famous Muskoka region still possesses a natural, rugged wildness that is rarely celebrated. In this wonderful large-format guidebook, well-known canoeist, wilderness advocate and author Hap Wilson explores the other Muskoka: from the Georgian Bay coast to the Algonquin highlands, through the vast stretches of forest, rivers and smaller lakes in between. Wilson covers canoeing, kayaking, hiking and cross-country skiing in Muskoka's best near-wilderness areas. Wilson's more than 80 hand-drawn, maps detail featured destinations. Soft eco-adventures combine easy daytrips with comfortable lodging. Hard eco-adventures put outdoor skills and endurance to the test, exchanging creature comforts for a more primitive experience.
"Washing through [Wilson's] words is the strong and steady commitment and respect for the natural world."
—Karen Hood-Caddy, Muskokan 05/15/2003
"Over 80 hand-drawn maps with detailed features offer the reader a range of outdoor experiences."
—Judith Ruan, Muskoka Magazine 05/2003
"[Muskoka's wilderness exposure] couldn't be done by a better person -- or in a better manner."
—Sue Lebrecht, Toronto Star 06/12/2003
"More than 80 wonderfully detailed, hand-drawn maps... a lively double-take on a 7,000 square-kilometer swath of the province."
—Laszlo Buhasz, Globe and Mail 05/10/2003
"Books like [this] can play a large role in this vital switch to more eco-friendly recreational outings."
—N. Glenn Perrett, Cottage Times 07/18/2003
"Nice maps and useful advice."
—Woodenboat 09/2003
Author Information
Hap Wilson is a wilderness tripper and guide with over 30 years experience. A self-taught writer, artist and photographer, he is also one of Canada's best-known canoeists and the author of many guide books. Wilson taught actor Pierce Brosnan how to canoe and throw a knife for his title role in the Richard Attenborough film Grey Owl.
Details
Publisher: Boston Mills Press, 2003
Category: Guidebooks and cookbooks
ISBN: 978-1-55046-339-2
Price: $19.95 CDN
Format: Paperback, 144 pages 8 x 10 in
Features: Includes more than 80 maps, all hand-drawn using traditional mapmaking procedures.