The Summer Before The Storm
The first of "The Muskoka Novels"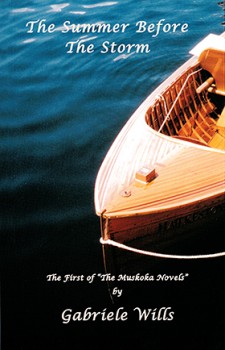 by Gabriele Wills

Usually ships within 4-5 business days

Shipping Info
Policies
More about this Book
Muskoka, 1914. It's the Age of Elegance in the summer playground of the affluent and powerful. Amid the pristine, island-dotted lakes, the granite cliffs, and pine-scented forests of the Canadian wilderness, the young and carefree amuse themselves with glittering balls, lavish picnics, and friendly competitions. But this summer promises to be different when the charming, ambitious, and destitute son of a disowned heir joins his wealthy family at their cottage on Wyndwood Island.
Through Jack's introduction into the privileged life of the aristocratic Wyndhams and their social circle - including captains of industry and financial titans - he seeks opportunities and alliances to better himself, including in his schemes, his beautiful, headstrong, and audacious cousin, Victoria.
A cast of engaging characters vividly brings to life the idyllic lifestyle of endless summers on tranquil lakes. But their charmed lives begin to unravel with the onset of the Great War, in which many are destined to become part of the "lost generation".
This richly textured tale takes the reader on an unforgettable journey from romantic moonlight cruises to the horrific sinking of the Lusitania, genteel Muskoka to wartime Britain, regattas on the water to combat in the skies over France, extravagant mansions to deadly trenches - from innocence to nationhood.
The Summer Before The Storm, the first of "The Muskoka Novels", evokes a gracious, bygone era that still resonates in this legendary land of lakes.
Author Information
The author of five highly acclaimed historical novels, Gabriele loves to recreate an era in which she can immerse herself (and readers), by weaving compelling stories around meticulously researched facts. Her characters are best friends, whom others are now calling "cherished friends".
With degrees in the social sciences and education, Gabriele has had a varied career as an educator, literacy coordinator, and website designer, and has been an active community volunteer, particularly in heritage preservation. But writing fiction has always been her passion. Her first short story appeared in the Canadian Authors Association Winners' Circle 5 Anthology. In 2001, she produced an award-nominated feature on CBC Radio's "Outfront".
Born in Germany, Gabriele emigrated to Canada as a young child. She grew up in Lindsay, Ontario, enjoyed several years in Ottawa, and currently resides in Guelph with her husband. She is the proud mother of an accomplished daughter, with whom she is collaborating on an historical YA novel.
Not being able to leave all her extensive research on the Great War behind, Gabriele created a website of quirky facts - 4yearsofWW1.info - which is being used by international researchers and educators.
Details
Publisher: Mindshadows, 2006
Category: Fiction
ISBN: 978-0-9732780-2-6
Price: $21.95 CDN
Format: Paperback, 548 pages, 5.5 x 8.5 in