Nightswimming
A Novel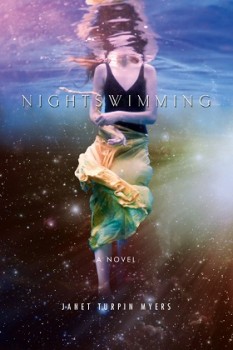 by Janet Turpin Myers

Usually ships within 4-5 business days

Shipping Info
Policies
More about this Book
On the fortieth anniversary of the Apollo 11 moon landing, Sandy Knowles, cartographer and university professor, is alone in her office. She is recording an audio memoir of her summers as a youngster coming of age in Muskoka in the 1960s. It seemed paradise was nothing more than a hillbilly get-together of forgotten cottages, where spinster twins in identical dresses held tender vigils for lost love and a sad hippie preached peace between Dylan and swigs of vodka, while two friends struggled with the awkward complexities of loving the same boy.
These are sweet memories, and yet there is something more - a dark memory that must resurface so that the truth can be brought to light.
Nightswimming is a delicate and layered novel about what happens to us when our first exploration of love, like astronauts swimming through the dark unknowns of space, takes us somewhere we never intended to go.
Author Information
Janet Turpin Myers spent the best part of her childhood summers in Muskoka, diving off the dock into the blue-black waters of Peninsula Lake. Despite being advised as a teenager to pursue office work rather than writing, she has been writing all her life: novels, poems, and short stories. Her poetry has appeared in Hammered Out and Tower Poetry. Nightswimming is her debut novel. She resides in Burlington, Ontario.
Details
Publisher: Seraphim Editions, 2013
Category: Fiction
ISBN: 978-1-927079-17-1
Price: $19.95 CDN
Format: Softcover, 178 pages, 6 x 9 in