Elusive Dawn
Book 2 of "The Muskoka Novels"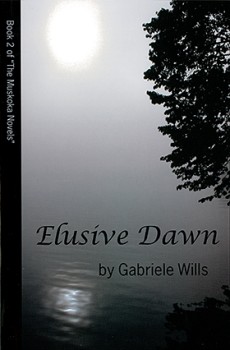 by Gabriele Wills

Usually ships within 4-5 business days

Shipping Info
Policies
More about this Book
It happened slowly at first. Thread by thread, the fabric of privilege and complacency enveloping the Wyndham family began to unravel. A carefree summer at their island house, disrupted by the arrival of long lost kin, ended in tragedy, betrayal, and war.
Now, in the compelling sequel to the acclaimed epic, The Summer Before The Storm, Ria and her friends find themselves at the mercy of forces beyond their control.
It's late summer, 1916. While some members of the Wyndham family revel in the last resplendent days of the season at their Muskoka cottage, others continue to be drawn inexorably into the "Great War", going from a world of misty sunrises across a tranquil lake to deadly moonlight bombing raids, festering trenches, and visceral terror.
For Ria, too many things have happened to hope that life would ever return to normal, that innocence could be regained. Caught in the vortex of turbulent events and emotions, she abandons the relative safety of the sidelines in Britain for the nightmare of France.
Her fate as an ambulance driver remains entwined with that of her summer friends, all bound by a sense of duty. Living in the shadows of fear and danger awakens the urgency to grasp life, to live more immediately, more passionately amid the enormity of unprecedented death. Together, their lives weave a tale of liberation and loss, evolution and redemption. Those who survive this cataclysmic time are forever changed, like Canada itself.
Impeccably researched, beautifully written, Elusive Dawn will resonate with the reader long after the final page has been turned.
Author Information
The author of five highly acclaimed historical novels, Gabriele loves to recreate an era in which she can immerse herself (and readers), by weaving compelling stories around meticulously researched facts. Her characters are best friends, whom others are now calling "cherished friends".
With degrees in the social sciences and education, Gabriele has had a varied career as an educator, literacy coordinator, and website designer, and has been an active community volunteer, particularly in heritage preservation. But writing fiction has always been her passion. Her first short story appeared in the Canadian Authors Association Winners' Circle 5 Anthology. In 2001, she produced an award-nominated feature on CBC Radio's "Outfront".
Born in Germany, Gabriele emigrated to Canada as a young child. She grew up in Lindsay, Ontario, enjoyed several years in Ottawa, and currently resides in Guelph with her husband. She is the proud mother of an accomplished daughter, with whom she is collaborating on an historical YA novel.
Not being able to leave all her extensive research on the Great War behind, Gabriele created a website of quirky facts - 4yearsofWW1.info - which is being used by international researchers and educators.
Details
Publisher: Mindshadows, 2008
Category: Fiction
ISBN: 978-0-9732780-3-3
Price: $21.95 CDN
Format: Paperback, 556 pages, 5.5 x 8.5 in