As Long as Rivers Flow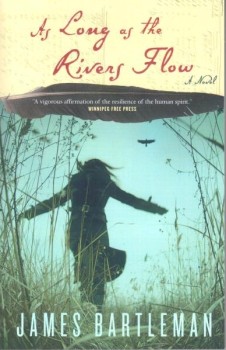 by James Bartleman

Usually ships within 4-5 business days

Shipping Info
Policies
More about this Book

At the age of six, Martha is taken from her family in the Cat Lake First Nation in northern Ontario and flown to a residential school. There, she is punished for speaking her Native language and "fed" to the attendant priest with an attraction to little girls. Ten years later, Martha returns home with anger in her eyes. Much of this anger she reserves for her mother. Soon Martha becomes a mother herself, but with little experience of good parenting she stumbles along her journey to establish a loving family, though she does achieve some peace. As Long as the Rivers Flow is filled with characters one cares about deeply – it is a story of pain and healing, and ultimately embracing life.
Reviews
"A vigorous affirmation of the resilience of the human spirit." – Winnipeg Free Press
"Inspiring . . . If you're only going to read one book to glimpse what it's been like to be aboriginal in this country, this novel should be the one." – Anne Laurel Carter, author of The Shepherd's Granddaughter and Last Chance Bay
"An extremely poignant novel that exposes the short-term and long-term damage of the residential school system. James Bartleman has skilfully illustrated an unpleasant but inescapable episode in Canadian and Native history and deserved recognition for shedding necessary light into the darkness." – Drew Hayden Taylor, author of Motorcycles & Sweetgrass
Author Information
James Bartleman is the former lieutenant governor of Ontario and the bestselling author of the novels As Long as the Rivers Flow and The Redemption of Oscar Wolf. A member of the Chippewas of Rama First Nation, he is also a retired ambassador and a member of the Order of Canada. He lives in Perth, Ontario.
Details
Publisher: Vintage Canada, 2011
Category: Fiction
ISBN: 9780307398758
Price: $22.00 CDN
Format: Softcover, 250 pages, 5 x 8 in