The Georgian Bay Ship Canal
Canada's Abandoned National Dream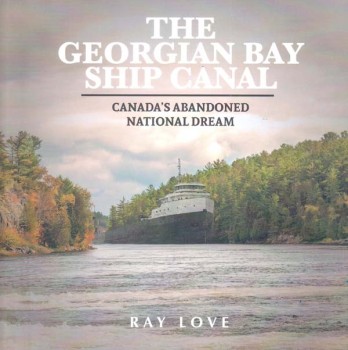 by Ray Love

Usually ships within 4-5 business days

Shipping Info
Policies
More about this Book

The Georgian Bay Ship Canal was a river and lake canalization scheme designed to create a commercial waterway along the route of the voyageurs. It was the dream of Canadian businessmen and entrepreneurs for centuries. Originally a trade route for Indigenous peoples, it became the country's first Trans-Canada Highway during the fur economy years, greatly contributing to colonial development as European imperial powers extended their reach into the North American interior.
The canal scheme was supported by no fewer than six Canadian prime ministers and, for a century less two years, was surveyed a dozen times. It was also hotly debated in the House of Commons and Canadian Senate. The plan was supported by lobby groups in Northern and Eastern Ontario as well as Montreal's business elite. Along the existing route of the rival Welland Canal-St. Lawrence shipping passage, it was vehemently criticized.
This book artfully shows why the scheme, despite its geographical advantages, failed to ever experience a steam shovel even beginning an initial dig. It is a tale of political intrigue, of Northern Ontario versus Southern Ontario, and of overspending by the federal government contributing to the stagnation of the entire enterprise. In addition, as author Love explains, the plan for a Georgian Bay Ship Canal also ran afoul of the struggle between federal and provincial governments vying for control over lucrative hydro-electricity resources.
Author Information
Ray Love is a retired teacher living and writing in Muskoka. A frequent visitor to a family camp on the French River, he learned here about the abandoned plan for a ship canal. His education in the fields of geography and history, combining with interest in stories from Muskoka's or Canada's past, are the spur for his several books in recent years.
Details
Publisher: Friesen Press, 2021
Category: History, Politics, Economics & Transportation
ISBN: 978-1-0-39104983
Price: $28.50 CDN
Format: Paperback, 158 pages, 8½ x 8½ in
Features: selected maps, charts, and photos; bibliography; and index