The Free Grant Lands of Canada
Muskoka & Parry Sound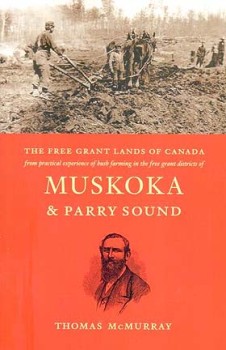 by Thomas McMurray

Usually ships within 4-5 business days

Shipping Info
Policies
More about this Book
This was the first book published in Muskoka. Printed in 1871 at the Northern Advocate offices in Bracebridge, where its author Thomas McMurray published his weekly newspaper, the book Free Grant Lands of Canada promoted settlement by offering "practical experience of bush farming in the free grant districts of Muskoka and Parry Sound." This new and enhanced edition of his now classic work offers an engaging and diverse portrait of life on Ontario's northern frontier in the 1860s and 1870s. An introduction by Bradley Hammond places this book's important role promoting immigration in its larger context. Hoping to present the new lands being opened for settlement, and given free to homesteaders who cleared land and built their cabin, entrepreneur McMurray presented a wide array of information that portrayed emerging community life, local resources, and numerous "practical" tips such a ship and train schedules, fares, clothing and utensil needs, and health tips for life in a pristine paradise.
Details
ISBN: 9780968145265
Publisher: Fox Meadow Creations, Huntsville
Paperback, 176 pages, several illustrations and a map.