Alligators of the North
The Story of the West & Peachey Steam Warping Tugs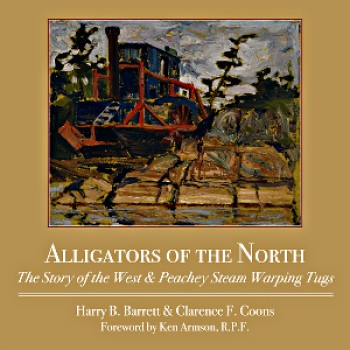 by Harry B. Barrett and Clarence F. Coons

Usually ships within 4-5 business days

Shipping Info
Policies
More about this Book
A Canadian invention that very few persons have heard of had a profound effect on the pine logging industry during the late 1800s and the early decades of the1900s. The logging of eastern white and red pine in Ontario's Ottawa Valley, the Georgian Bay and the north shore of Lake Huron was of major economic and social importance. The accessible stands of timber when logged were routed along fast flowing rivers leading into the Ottawa River or Georgian Bay.
Once such stands were depleted, the logging moved into the more distant hinterlands. But how to move the timber? Something was needed that could move booms of logs both on a lake and then overland to the next lake, using its own power. Steam power was the new technology of the day. Enter the inventors, John West and his partner James Peachey, who with their foundry staff built the first steam warping tug, which was unveiled in 1889 at Simcoe, Ontario, the first of many that popularly became known as northern alligators.
The Alligator was an amphibious machine designed and patented in Canada in the late 1880s. This warping tug was capable of towing a log boom across a lake and then portaging itself to the next body of water. Steam-powered and rugged, it was one of the pioneers in the mechanization of the forest industry and for more than thirty years was ubiquitous in northern Ontario until eclipsed by its worthy successor the Russel tug. This long-overdue book on the Alligator Warping Tug, designed and built by West & Peachey of Simcoe, Ontario, is a welcome addition to the libraries of those intrigued by Canada's story and particularly lumbering history."
—R. John Corby, curator emeritus, Canada Science and Technology Museum
By enabling access to the upper reaches of the Ottawa River and its many tributaries, the Alligator tug extended the social and economic stability provided by the timber industry and supported the populating of this vast region. Alligators of the North is a wonderful touchstone for all who share this heritage."
—Mary Campbell, mayor of McNab-Braeside Township, Renfrew County
Author Information
Harry Barrett, a long-time resident of Norfolk County, is a noted naturalist, conservationist, and historian. Harry was the founding chair of the Long Point Foundation for Conservation, and is the author of books on the local history of the Norfolk-Haldimand region of Ontario. He lives in Port Dover, Ontario.
Clarence Coons, now deceased, was a well-known professional forrester in Ontario. While growing up in Lakefield, Ontario, he heard many stories about the white pine harvesting in the Trent Watershed and the ""Alligators ""at work. Clarence did the original research for this book, and Harry Barrett completed the work.
Details
Publisher: Natural Heritage Books, 2010
Category: Lumbering and resource industries
ISBN: 978-1-55488-711-8
Price: $34.99 CDN
Format: Paperback, 234 pages 9 x 9 in
Features: 80 B&W illustrations, maps, bibliography, resources, notes, index