Spirit of Place (softcover)
Muskoka Then & Now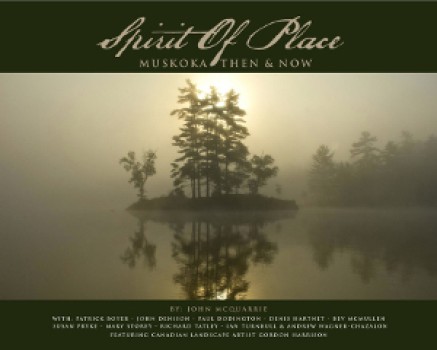 by John McQuarrie

Usually ships within 4-5 business days

Shipping Info
Policies
More about this Book
Between Algonquin Park to the east and Georgian Bay to the west, atop the pink granite rocks of the Canadian Shield, lie 6,500 square kilometres of scenic country, pristine waters, and charming towns and villages. This is Muskoka, a place as renowned for its natural attractions as it is for its fascinating history, classic wooden boats and the spell-binding steamships of Muskoka Wharf. A place that draws visitors who want to play all day and those who would like nothing more than to lounge in one of the region's famous Muskoka chairs.
Muskoka will quickly have you under its spell on your very first visit! This book is the proof… Employing a combination of over 450 archival and contemporary images woven into a lively text, this 'Then & Now' treatment will illustrate the growth of this legendary resort destination. Whether your first visit is still on your 'to-do' list or you are a fifth generation cottager, Spirit of Place will give you a sense of how Muskoka evolved from virgin forest to one of Ontario's most loved vacation destinations.
Author Information
John McQuarrie is an Ottawa-based photographer whose major clients have included Coors, Marlboro, McDonnell-Douglas and Lockheed. But his real passion is producing coffee table books. His earlier works focused on the Canadian Air Force from the Second World War to the Gulf War and the Canadian Armed Forces in their role as Peacekeepers. John then turned his camera onto the cattle business and working cowboys. And he is quick to point out that his unfulfilled childhood dream of becoming either a cowboy or a fighter pilot has, in later life, finally been realized vicariously through the lens of his camera.
The first five titles in his highly acclaimed Then & Now series (Above Canada, Ottawa, Toronto, Vancouver and Montréal) enjoyed wide success. Then came his first collaboration with CTV's Jeff Hutcheson. Best Of Canada was an instant best seller and the success of this project led to a second title, Best Of Atlantic Canada. In 2007 he published The Rideau Canal, Then & Now and followed up with Trent-Severn Waterway, Then & Now in 2009. For 2010 John released three new titles on Muskoka including this book.
Details
Publisher: Magic Light Publishing, 2011
Category: Communities and locales / Nature, environment, and natural history / Pictorial works
ISBN: 978-1-894673-40-2
Price: $34.95 CDN
Format: Paperback, 248 pages 11.5 x 9 in