Muskoka Sings
Poems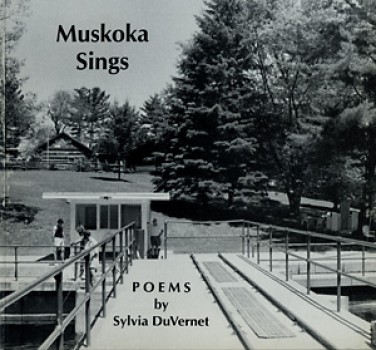 by Sylvia DuVernet

Usually ships within 4-5 business days

Shipping Info
Policies
More about this Book
The people, places, and events of Muskoka District moved poet Sylvia DuVernet to lyrical expression. The songs she fashioned as poetry came from Muskoka itself, and are preserved for posterity in this treasured volume of her work, Muskoka Sings.
Author Information
Silvia DuVernet taught for many years in the Continuing Studies Department of the University of Toronto and at McMaster University in Hamilton, Ontario. With her graduate qualifications in Education, Literature and Religious Studies, she sought an interdisciplinary approach to Canadian literature and culture. Further enriching this approach was DuVernet's internationalist religious outlook and philosphy. Her major areas of academic emphasis were literary criticism and religious studies, including major reasearch work in theosophy.
A life-long summer resident of Ontario's celebrated Muskoka District, Sylvia DuVernet first enjoyed holidays at her grandparents' cottage on Gull Lake near Gravenhurst, then at her parents' cottage on Lake Rosseau near Windermere. After marrying lawyer Ernest DuVernet, she and her husband next acquired their own family cottage at Sandy Bay near Port Carling. In turn they introduced their three sons Peter-Paul, Christopher, and Timothy, to the exitement and beautiful serenity that is summer in Muskoka.
In Muskoka she became familiar with Mohawk Band members at Wahta Reserve, and closely interested in their activities. In time she shared the remarkable story of this unique aboriginal experience with a wider audience through her book An Indian Odyssey.
As a poet, Sylvia DuVernet frequently sought to express lyrically her experiences and insights about Muskoka, with many poems first published by Robert J. Boyer in his Muskoka Sun newspaper, then later in bound volumes. She also wrote poetically of information she gleaned from people in China about Dr. Norman Bethune, during her visit to the country in 1977.
Details
Publisher: Muskoka Publications, 1991Category: Arts, culture, and education
Price: $19.95 CDN
Format: Paperback, 121 pages, 9.25 x 9 in