Cottage Daze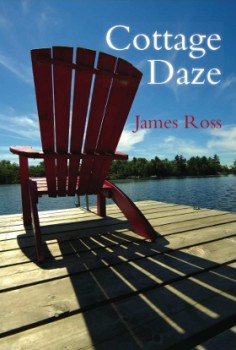 by James Ross

Usually ships within 4-5 business days

Shipping Info
Policies
More about this Book
Cottage Daze celebrates life at the cottage where the cottage is the main character, and family, friends, pets, and fellow cottagers are the supporting cast.
Who doesn't remember sitting in a frigid lake, trying to help a youngster get up on water skis for the first time, launching a boat while the whole world seems to be watching, or getting caught up in a nest of wasps? This collection of stories, elegantly organized into four seasons (spring, summer, autumn, and winter), will make readers laugh, cry, and long to be at the cottage — a "must have" for every cottage bookshelf.
Author Information
James Ross has a degree in journalism and has worked as a newspaper reporter, cowboy, mountain guide, museum curator, dogsledder, movie stuntman, animal trainer, photo double, and freelance writer. He enjoys and misadventures at his Muskoka island cottage in Bracebridge, Ontario.
Details
Publisher: Dundurn, 2012
Category: Biography & Memoir / Communities & Locales / Cultural Life / Vacationing & Resorts
ISBN: 978-1-45970-445-9
Price: $19.99 CDN
Format: Paperback, 159 pages, 6 x 9 in
Features: Photographs