Bracebridge Around 1930
Youthful Memories of Muskoka's District Town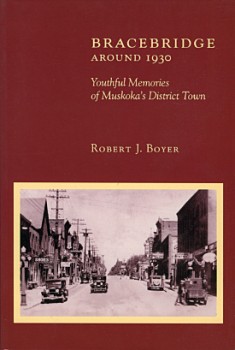 by Robert J. Boyer

Usually ships within 4-5 business days

Shipping Info
Policies
More about this Book
Bob Boyer was a young man when his hometown entered a period of transition, automobiles rapidly replacing horses and buggies, old industries from the pioneer era closing or fading away.
In this book, as if strolling along the streets of town in the years around 1930, Robert J. Boyer in his twilight years describes the community he remembers as a young man.
Loosely structured as a walking tour up principal thoroughfares and down back lanes, Bracebridge Around 1930 is replete with information about the town's homes, shops, businesses, industries, and institutions, all enriched by anecdotes about the people who lived or worked in them.
Even more, this is the tour of an era in Muskoka history. From his direct personal knowledge Boyer focuses on the men and women enriching the cultural and economic life of Muskoka's district town. This companionable volume includes several historical articles written by the author's wife, educator, librarian and journalist, Patricia Boyer. A selection of 170 photographs, some never before published, illustrate life in Bracebridge eighty years ago.
Author Information
Born in Bracebridge in 1913, Robert J. Boyer, a member of one of the town's oldest families, would grow up to contribute solidly to the town as newspaper publisher, local historian, member of the provincial legislature, and participant in numerous community groups. He became widely respected for his life-long interest and wide-ranging contributions to Bracebridge and Muskoka District. Author of a dozen titles, his book A Good Town Grew Here is the definitive work on the history of Bracebridge from inception to World War I. He died in 2005.
Details
Publisher: Oxbow Press, 2001
Category: Communities and locales
ISBN: 978-0-9688671-0-5
Price: $24.95 CDN
Format: Paperback, 239 pages 6 x 9 in
Features: 170 photos, map, index