Grey Owl and Me
Stories From the Trail and Beyond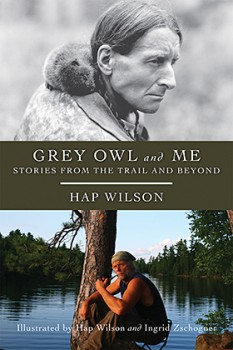 by Hap Wilson, Ingrid Zschogner

Usually ships within 4-5 business days

Shipping Info
Policies
More about this Book
Hap Wilson, author of several fine books of wilderness adventure and survival, takes readers on yet another journey, but this time on the lighter side of the adventure trail. Nurtured in early age by the writings of Grey Owl, who disguised himself as a Canadian aboriginal and developed a wide following for his conservationist message, Wilson learned nature skills as a youth paddling in Temagami, working as a wilderness canoe ranger and guide, and following in the footsteps of Grey Owl.
The author recounts early days winter camping, motorcycling the Labrador coast, and teaching actor Pierce Brosnan to throw knives and paddle a canoe for his role in Richard Attenborough's film about Grey Owl. As well, Wilson takes the reader to a few of his favourite places and shares intimate secrets of wilderness living, where Grey Owl himself returns, the ever-present critic, a buckskin-clad spectre in a modern world of Gore-Tex, Kevlar canoes, and gear freaks.
Author Information
A self-taught artist and photographer, Hap Wilson has travelled over 60,000 kilometres by canoe and snowshoe. He's led more than 300 wilderness expeditions, becoming one of North America's best-known wilderness guides and canoeists. For some 30 years he's been a builder of sustainable woodland trails. Co-founder of the environmental group Earthroots, Wilson lives in Rosseau, Ontario.
Details
Publisher: Dundurn Press, 2010
Category: Biography & Memoir / Natural Environment
ISBN: 978-1-55488-732-3
Price: $26.99 CDN
Format: Paperback, 242 pages, 9 x 6 in
Features: 41 B&W illustrations