English Bloods
In the Backwoods of Muskoka, 1878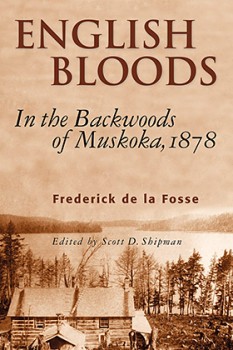 by Frederick de la Fosse

Usually ships within 4-5 business days

Shipping Info
Policies
More about this Book
Farming in the Canadian backwoods in the late 1800s was a prospect that enticed many young Englishmen to cross the Atlantic. One such fellow was Frederick de la Fosse, whose well-meaning uncle paid £100 per annum for his young nephew to serve as a farm pupil in the northern reaches of Muskoka. Some years later, de la Fosse, under the pseudonym of Roger Vardon, wrote an illuminating and humorous biographical account of the trials and tribulations of the ""English Bloods,"" the local epithet attached to these young lads attempting to hone farming skills in a land never intended to be agricultural. And, in so doing, de la Fosse chronicles the realities of pioneer life in the area.
In the original text, published in 1930, a number of names were changed to conceal identities of the local people. Editor Scott D. Shipman has spent over eight years researching the authentic names and overall background for this new augmented edition of English Bloods. The richly descriptive text written by the keenly observant and erudite de la Fosse is complemented by archival visuals and annotations for today's reader.
Author Information
Frederick de la Fosse went on to become a public librarian in Peterborough in 1910.
Editor
Scott D. Shipman was born in Weston, Ontario, and discovered his passion for writing as a young boy growing up in Bolton, Ontario. Eventually he moved with his family to Huntsville in the Muskoka District.
Since that day Scott has loved the great serenity of the area. In the early 198s, Scott married his lifetime companion, Peggy. They have two children, son Collin and daughter Carly.
It was when Scott's father asked him to research historical background on the former Bigwin Inn, the fabled resort in the Lake of Bays area, that Scott stumbled upon English Bloods. His passion for writing combined with his keenness to know more about early Muskoka pioneers combined to produce this new edition.
Details
Publisher: Dundurn Press, 2004
Category: Biography, autobiography, and reminiscences
ISBN: 978-1-896219-96-7
Price: $24.95 CDN
Format: Paperback, 224 pages, 6 x 9 in
Features: 41 B&W illustrations