Early Days in Dorset
Memories of Norman Angus MacKay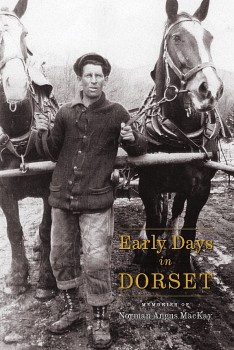 by Norman Angus MacKay

Usually ships within 4-5 business days

Shipping Info
Policies
More about this Book
Off in a far corner of Muskoka, the village of Dorset developed a distinct character as it grew from a solitary fur trader's cabin to a thriving village catering primarily to the needs of the lumber companies cutting pine in the hills to the east. Early residents had plenty of character themselves.
The MacKay family settled in Dorset in 1889. They farmed, ran a hotel, operated a sawmill, and engaged in logging. Norman went to work in the bush at age 18 as a teamster in the logging camps up beyond Kawagama Lake.
A keen observer of life and people, Norman also absorbed a treasure trove of stories and information about early Dorset, which in this book he combines with his own adventures as a lumberman.
Photos from the MacKay family albums and other collections illustrate the lumber industry, early homes, hotels and stores, and other Dorset scenes from the 1870s to the 1930s.
Author Information
Norman Angus MacKay (1905-1993) lived all his 88 years in Dorset. Both his mother's and father's families were among Muskoka's earliest settlers in the mid-1860s, in Draper Township. Norman followed his father and older brother into the lumber business. He also farmed, worked as a carpenter, and guided hunters and fishermen.
Deatils
Publishers: Fox Meadow Books & The Norman MacKay Family
Publication year: 2020
ISBN: 978-0-9734434-4-8
Price: $18.00 CDN
Format: 126 pages, 6 x 9 in, soft cover
Features: 60 b&w historical photos, map, index