At Your Age?
You're writing a book of short stories and poems?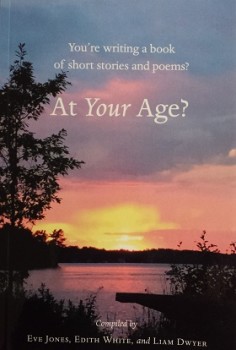 by Eve Jones, Edith White, and Liam Dwyer

Usually ships within 4-5 business days

Shipping Info
Policies
More about this Book
Starting with conversations on the back deck of the residence and ending with this book, these authors have painstakingly compiled and transcribed dozens of stories from the various and unique residents of their retirement home. This book documents a generation that have probably seen the greatest changes in the world since the invention of the printing press. The authors of these short stories and poems, whose ages range from 70 to 103, have suffered the loss of loved ones in wars, struggled through a depression, witnessed the moon landing, and now the epoch of the computer age - only to find themselves residents of the same retirement home in Muskoka.
These are their stories.
Author Information
Liam D. Dwyer, the youngest of eight children, was born in Eganville, Ontario, in 1923. A former naval officer, he is author of the six books in the popular Murdoch in Muskoka mystery series, as well as a WWII novel titled A Full and Careful Investigation. Along with fellow residents Eve Jones and Edith White of the Castle Peak Retirement Residence, he has compiled an impressive collection of memories and stories from dozens of contributors all living in the same home.
Details
Publisher: Largo Literary Productions, 2016
Category: Biography & Memoir
ISBN: 978-0-9868177-2-4
Price: $17.95 CDN
Format: Softcover, 172 pages, 6 x 9 in
Features: 52 Short Stories; Author Index