A Struggle To Walk With Dignity
The True Story of a Jamaican Born Canadian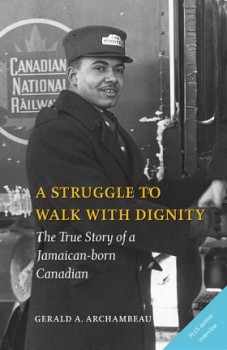 by Gerald Archambeau

Usually ships within 4-5 business days

Shipping Info
Policies
More about this Book
With refreshing honesty Gerald Archambeau tells one man's life story―his own, as a Black immigrant in Canada battling against racism. His autobiography A Struggle to Walk with Dignity succeeds in maintaining your interest as it weaves in and out of different time frames and places.
Testimonials by readers say it best:
"His experience as a Black immigrant arriving in Canada in the 1940s touches themes central to our country's identity. In the face of the racism he encountered, Archambeau never lost hope that positive change was possible and that he would assume a role in affecting such change." - Don MacLean, Ottawa Life
"This book is a must-read for any new immigrant coming to Canada in search of a better life and how to avoid the pitfalls that often befall them. Gerald Archambeau, with his personal testimony and a strong sense of faith in the human spirit, uplifts, encourages, and teaches how to "walk with dignity" when all the cards were seemingly stacked against him." - Sharleine M. Haycock
Author Information
Gerald Archambeau was born in Kingston Jamaica. He arrived in Montreal in 1947 and worked for Canadian Pacific and Canadian National until the 1960s when declining passenger rail traffic and ascendency of air travel caused him to switch to a career with a major Canadian airline in Toronto. Since his retirement, Gerald lives in St. Catherines, Ontario.
Details
Publisher: Blue Butterfly Book Publishing Inc. 2008
Category: Biography and Memoirs
ISBN: 978-0-97849-820-7
Price: $19.95 CDN/
Format: Softcover, 277 pages, 5.5 x 8.5 in