A Passion for Justice
How 'Vinegar Jim' McRuer Became Canada's Greatest Law Reformer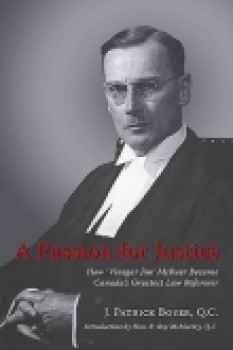 by J. Patrick Boyer

Usually ships within 4-5 business days

Shipping Info
Policies
More about this Book
It is possible that James Chalmers McRuer would never have had any legal career at all, let alone become Ontario's Chief Justice and Canada's legendary law reformer, had it not been for two major turning points in his life that occurred in Muskoka.
The first occurred when, as a law student whose career was sidelined by tuberculosis, young Jim McRuer came in 1910 to recuperate in Muskoka's clean air, living with his brother Dr. John McRuer who practised medicine in Huntsville. and John's wife Edythe in Huntsville, while articling with lawyer Bert Hutcheson. He made friends with artist Tom Thomson, who'd been best man at John and Edythe's wedding, and photos Tomson took of Jim McRuer were recovered decades after the artist's strange death in Algonquin Park, and are reproduced in A Passion for Justice. McRuer recovered his health, and his spirits, and headed to Toronto to advance his legal career.
Several years later, in practice but without any clients, and married but with his health again failing, McRuer took a second gamble on Muskoka. Using the last of the couple's savings, he came north in winter to stay at Limberost Lodge. Here he met two men of great influence in Ontario government and the administration of justice, and a few weeks later had been hired by Ontario's Attorney General James Rainey as Assistant Crown Attorney for York at a high salary. From then on, James Chalmers McRuer never looked back.
This richly detailed biography illustrates how a determined Canadian seeking justice created an enduring legacy. Through vigorous battles, Jim McRuer's passion for justice was translated into laws that daily touch and protect the lives of millions today.

McRuer was not always easy to get along with, or even much liked by many lawyers who dubbed him 'Vinegar Jim.' Another epithet was "Hangin' Jim" because of the many capital cases his judged in which men were sentenced to be hanged, including the last men to die on the gallows in Canada, Lucas and Turpin, for the murder of a taxi driver in a gravel pit near Huntsville.
Yet countless others saw him as heroic, inspirational, a man above and apart from his times. His resolute focus on justice changed the lives of married women with no property rights, children without legal protection, aboriginals caught in the whipsaw of traditional hunting practices and imposed game laws, and prisoners locked away and forgotten. Environmental degradation and those causing it, murderers, stock fraud artists and Cold War spies all came within the ambit of J. C. McRuer's sharp legal mind and passion for justice. Upon turning 75, McRuer embarked on his most important work of all, becoming Canada's greatest law reformer and remaining active into his 90s.
Praise
"A major, highly readable contribution to Canadian legal history." — Michael Bliss, historian and author, Toronto
"This book ruined my sleep. I stayed up virtually all night and spent countless hours on planes doing nothing but reading A Passion for Justice." — Laird Hunter, Q.C., lawyer and social justice advocate, Edmonton
"A powerful, superb biography on one of the more influential individuals in the history of Canadian law. Boyer vividly presents a highly readable, fascinating record of an extremely complex Canadian personality."
— Edward L. Greenspan, Q.C., leading Canadian criminal lawyer, Toronto
"In this engaging study of an outstanding jurist, Patrick Boyer demonstrates that McRuer's legacy derived as much from his famous inquiry into civil rights and his pioneering work as a law reformer as from his accomplishments on the bench."
— R. Roy McMurtry, Q.C., former Ontario Attorney General, former Chief Justice of Ontario, former High Commissioner for Canada to the United Kingdom, and long-time summer resident on Eileen Gowan, Lake Muskoka
Author Information
J. Patrick Boyer's experience as journalist, lawyer, university professor, parliamentarian and chair of public policy organizations enables help him to capture McRuer's engagement in similar fields with realistic balance.
Boyer, who has written many books on law and public policy, was designated a Queen's Council "in recognition of his public contributions through the authorship of legal texts on Canada's electoral laws," a body of work comprising some nine law books and several dozen articles.
Details
Publisher: Blue Butterfly Books, 2008Category: Biography, autobiography, and reminiscences
ISBN: 978-0-9781600-0-5
Price: $28.95 CDN
Format: Paperback, 439 pages 6 x 9 in
Features: Introduction by Hon. R. Roy McMurtry, Q.C., 27 photographs, subject index.
NOTE: Hardcover edition available from The Osgoode Society for Canadian Legal History at This email address is being protected from spambots. You need JavaScript enabled to view it.