Algonquin Adventure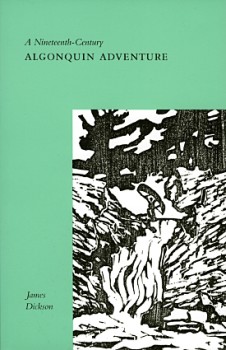 by James Dickson

Usually ships within 4-5 business days

Shipping Info
Policies
More about this Book
How would it have been, can you imagine, canoeing through what is now Algonquin Park back in the 1880s?
James Dickson, who knew the Algonquin highlands better than anyone, first published this now-classic book in 1886 under the title Camping in the Muskoka Region. His account describes a canoe trip from Lake of Bays up Oxtongue River then through the chains of lakes now plied each year by thousands of Algonquin Park adventurers. Writing in a charmingly quaint style, Dickson provides vivid descriptions of wild scenery and abundant wildlife, rounded out with detailed instructions for paddling birchbark canoes and cooking meals in the manner of the 19th-century bush camp.
Between 1878 and 1885 the author had explored the Algonquin highlands extensively as a surveyor for the Ontario government and while these surveys were an intended prelude to agricultural settlement, Dickson and others recognized the real potential of the region was recreation. Indeed, James Dickson is considered one of the "fathers" of Algonquin Park because of his central role in establishing Ontario's most famous park in 1893.
Much of the territory Dickson travelled was part of the last remaining island of virgin wilderness on the Algonquin highlands. Just a few years later lumbermen moved in — notably the Gilmour company, as recounted in When Giants Fall: The Gilmour Quest for Algonquin Pine. Dickson's narrative is historically all the more valuable because it portrays this pristine natural setting as it existed prior to logging.
This new edition of James Dickson's classic was created by Muskokan Gary Long and published by his company Fox Meadow Books. Long has added unobtrusive notes to place Dickson's narrative into perspective for today's reader, and included a short biography of Dickson outlining how the congenial small-town surveyor contributed to the founding of a world-renowned park.
Author Information
Born in Scotland in 1834, James Dickson grew up in the Ottawa Valley after his family emigrating to Canada in 1840. He tried his hand at farming and teaching school, then become accredited as land surveyor in 1867, making his permanent home in Fenelon Falls in the Kawartha Lakes district.
Besides his local practice, Dickson ranged far afield, undertaking township surveys for the Ontario and Dominion governments, and timber berth surveys for lumber companies. In the course of his work he often spent months in the bush, canoeing or on foot, in the process becoming an expert woodsman.
By 1887 Dickson was asked by the Ontario government to prepare a report on the Algonquin highlands and its suitability as a park. In 1892 he was appointed one of the five members of the Royal Commission on Forest Reservation and National Park. As a result of the commission's work and recommendations, Algonquin Park was established in 1893.
James Dickson died in 1926.
Details
Publisher: Fox Meadow Creations, 1997Category: Nature, environment, and natural history
ISBN: 978-0-9681452-0-3
Price: $19.95 CDN
Format: Paperback, 189 pages 5.5 x 8.5 in
Features: map / notes / biography of author / index