A Man & His Words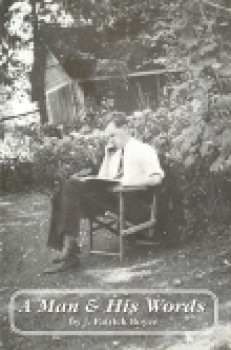 by J. Patrick Boyer

Usually ships within 4-5 business days

Shipping Info
Policies
More about this Book
This biography of a consumate Canadian, Robert J. Boyer of Bracebridge, links together the many different facets of his long career through their common connection with words — words written to inform and record, words read for work and for pleasure, and words spoken to persuade others in the public life of Muskoka and provincial affairs.
Boyer's working life began at age 19 when the Great Depression forced him to leave high school in order to become editor of his family's economically imperilled newspaper, The Muskoka Herald. It continued through to the publication of his twelfth book at the age of 88. In between, he emerged as an author, journalist, researcher, editor, printer, and public speaker — a career measured by words.
Robert Boyer loved music, public service, and above all, the District of Muskoka. He was a church organist, a member of the Ontario Legislature for seventeen years representing Muskoka, and first vice-chairman of Ontario Hydro. He became founding president of Santa's Village. He started a number of Muskoka newspapers — such as The Georgian Bay Beacon and The Muskoka Sun — and opened a retail bookstore on the main street of Bracebridge. Born in 1913, Robert Boyer died in 2005.
A small book whose story is touchingly told, A Man & His Words is richly illustrated with photos, most of them not previously published.
Praise
"Written by a master of words, this book shows us a man who not only lived by words but used words to enhance the life of his community and its people. We are the country we are because of Canadians such as he."
—Reginald Stackhouse, author; former MP and Canadian Representative to the UN General Assembly; Commissioner, Ontario Human Rights Commission
Author Information
J. Patrick Boyer, lawyer, journalist, professor, television host, and former parliamentarian, is author of some twenty books, including Just Trust Us, Leading in an Upside-Down World, Direct Democracy in Canada, The People's Mandate, and A Passion for Justice. Born and raised in Bracebridge, Patrick worked closely with his father at the newspaper and in political life, which enabled him to present this rare portrait of Robert J. Boyer blending both public and private sides of his life.
Details
Publisher: Canadian Shield Communications, 2003
Category: Biography, autobiography, and reminiscences
ISBN: 978-1-55002-486-9
Price: $19.95 CDN
Format: Paperback, 95 pages 6 x 9 in
Features: Includes photographs.