Miles to Millions
One Aviator's Amazing True Story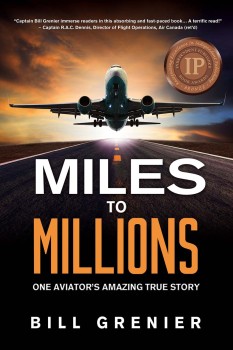 by Bill Grenier

Usually ships within 4-5 business days

Shipping Info
Policies
More about this Book
When he became a commercial pilot at age 19, Bill Grenier never imagined that one day he'd be captain of the largest commercial plane the world had seen, flying the highest-profile routes of a proud national carrier. Even less could he have imagined, at that age and without money, that one day he'd also become a wealthy man. Ultimately, he controlled a business empire worth nearly a billion dollars.
Told with wit and humour, Miles to Millions is Grenier's personal account of that journey. His book shows where a bit of luck, a lot of persistence, and an unquenchable appetite for adventure can land one. From cradle to cockpit, boarding house to boardroom, the author shares his fascinating saga as both commercial pilot and businessman. Studded with anecdotes so numerous it's hard to image them all flowing from one man's career – from acting as a repo man taking planes for payment, to saving hundreds of passengers in a stricken 747 with a collapsed co-pilot – Miles to Millions in a high-flying story of wide appeal.
Author Information
Bill Grenier was born in Newfoundland in 1936. He and his wife Sharon, whose family in Nova Scotia includes ancestors of Mi'kmaq heritage, live half the year in Muskoka, and half in British Columbia.
Details
Publisher: Promontory Press, 2017
Category: autobiography, aviator, business
ISBN: 978-1-987857-84-9
Price: $19.95 CDN
Format: Paperback, 394 pages, 6 x 9 in